November 20, 2018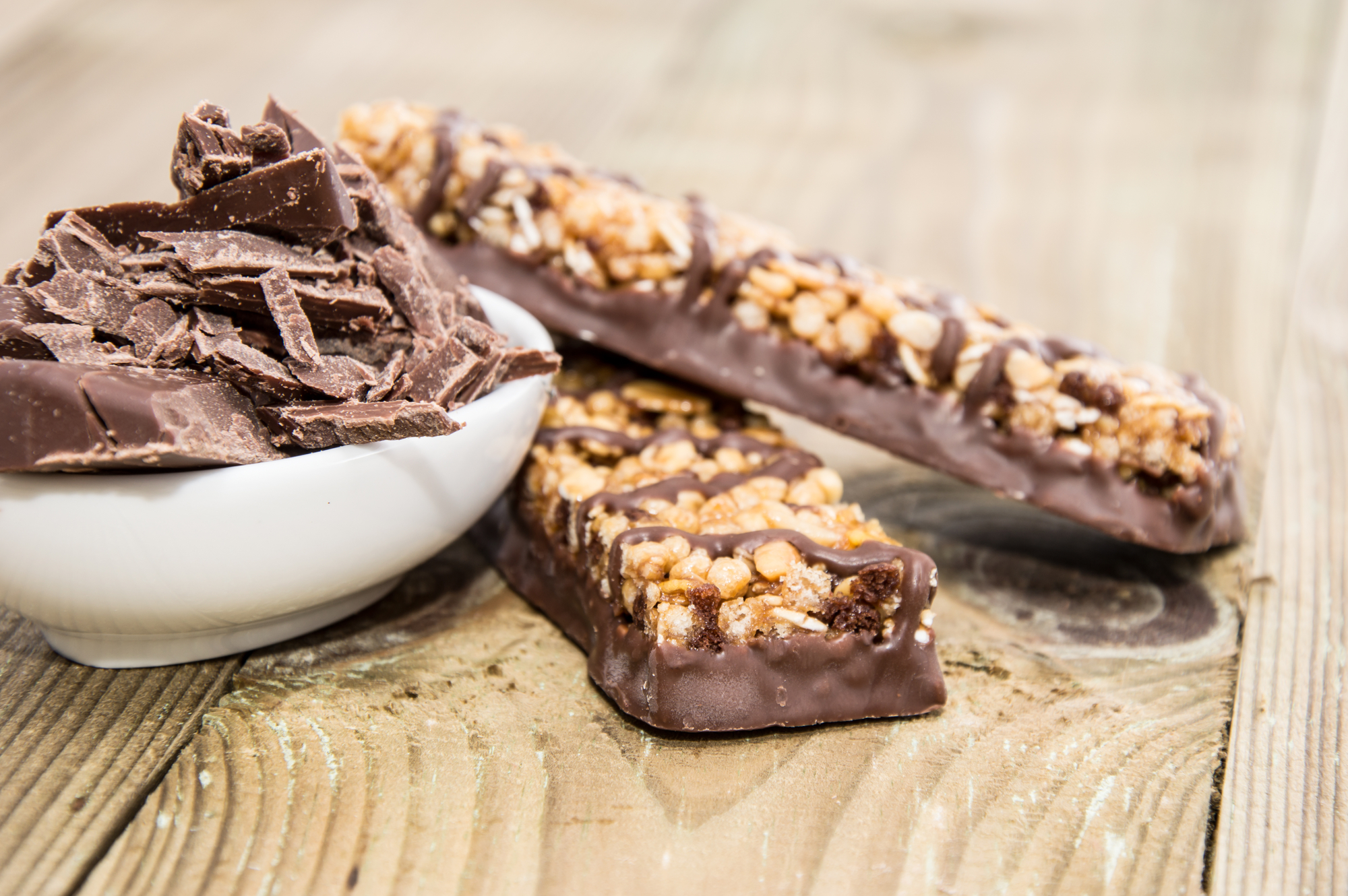 By: Taylor Empey | CFT, SFN, SET, Elite Trainer Level I | Iron Allies Fitness | 3844 S. 300 E. Salt Lake City, UT 84115 | 801-263-5336 | ironalliesfitness@gmail.com | ironalliesfitness.com
What's up Allies?!
Now you can quickly and easily make your own protein bars at home! This no bake recipe takes high quality protein powder and combines it with wholesome, real food ingredients to create a delicious protein bar to power your day. Store these in your freezer, then simply allow to defrost for a few minutes before enjoying. Serving: 10
Here's what you need…
1 cup vanilla protein powder
1/4 cup coconut flour
2 mashed bananas
1/2 cup coconut milk
1/4 cup water (and more if needed)
1 teaspoon vanilla extract
2 Tablespoons mini chocolate chips
1 oz dark chocolate (70% cocoa or higher)
1 teaspoon coconut oil
In a medium bowl combine the protein powder and coconut flour.
In another medium bowl mash the bananas. Add the coconut milk, water and vanilla, mix until smooth. Add the dry ingredients and mix until fully combined. If the batter is dry then add a few more drops of water. Mix in the chocolate chips.
Line a freezer-safe plate with wax paper. Form the dough into 10 bars. Place on the wax paper and put in the freezer for 20 minutes.
In a double boiler over medium-low heat (make your own by placing a small saucepan directly in a skillet that has few Tablespoons of water) melt the dark chocolate and coconut oil.
Remove the bars from the freezer and drizzle or dip in the melted dark chocolate. Return to the freezer for 10 minutes until the chocolate has hardened.
Nutritional Analysis: One bar equals: 183 calories, 6g fat, 11g carbohydrate, 99mg sodium, 5g fiber, and 18g protein
Text, call or email us today to join us for an entire week of FREE unlimited group training classes and a private 1-on-1 consultation!
Click here to schedule your initial consultation! 
-Team Iron Allies
Tags:
#IronAllies #IronAlliesFitness #IAF #Fitness #Fitspo #UtahFitness #Fitcon #FitconUtah #utahfitfam #utahfitspo #Fit #Muscle #VASA #vasafitness #WeightLoss #FatLoss #Health #Healthy #SaltLakeCity #Utah #saltlakecityutah #SLC #UT #utahgram #bodybuilding #weightlossjourney
exercise classes salt lake city, fitness classes in salt lake city, weight loss salt lake city, gym in salt lake city, gym in salt lake, fitness salt lake city, boot camp fitness center slc, best gym in salt lake, fitness centers in salt lake city Utah, gyms near salt lake city, gyms in murray Utah, fitness clubs salt lake city, slc fitness classes, gyms in salt lake city Utah, personal trainer salt lake city, personal training salt lake city, personal fitness trainer salt lake city, personal trainer slc, bootcamp salt lake city, fitness classes salt lake city,