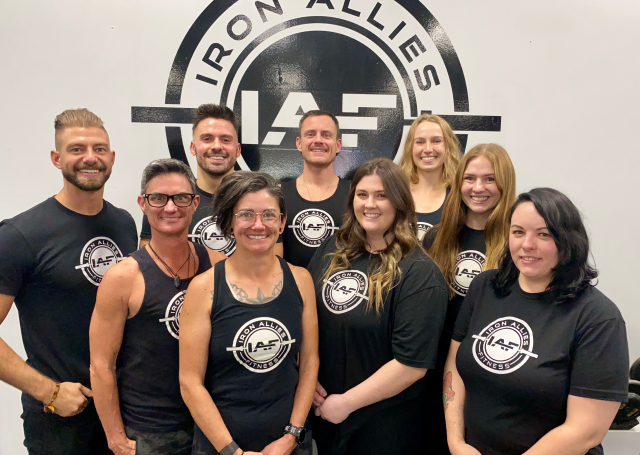 Our Mission
The Iron Promise
Are you ready to change your lifestyle habits for good? Iron Allies Fitness is all about helping our clients succeed in a healthy and sustainable way. Our team is here to give you the tools and resources you need to make it happen. We believe that sustainable progress is achieved through the power of community. That's why we strive to bring together people from all walks of life to motivate and inspire one another. Let's join forces and unlock your success!
Why IAF?
Why Choose Us?
Our team is passionate about helping people achieve their fitness goals. We get that a healthy life doesn't just mean looking good, it's about feeling good too. We work to help clients build valuable lifestyle habits that will make them feel better than ever. Through education, guidance, and community support, we strive to make meaningful, long-lasting changes that go beyond the surface level.
We make an effort to create a safe, inclusive, and supportive environment. We want to make sure that our clients feel comfortable and empowered to take on anything!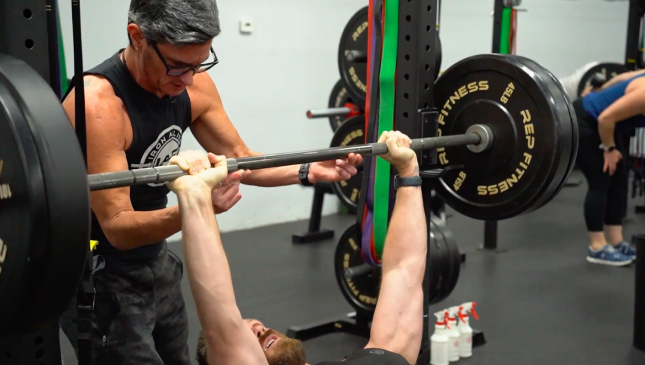 Why choose Iron Allies Fitness?:
✅   We have helped hundreds of people achieve their wellness goals,  and believe that we can help you too.

✅   Our team consists of highly experienced training professionals.

✅   We foster a lively, family-like community.

✅   We truly care about your wellness and will work with you to target your individual needs.

✅   We have clean, high quality equipment so you don't have to worry about risking your health.
Passionate Coaches
Meet Taylor Empey
Taylor Empey, the co-owner of Iron Allies Fitness, is a certified fitness trainer and nutrition specialist. With over 12 years of industry experience, he offers valuable knowledge to the community. He holds numerous certifications in Kinesiology and Nutrition Science such as ISSA – CFT, SFN, SET, and Elite Trainer Level 1.
Taylor's training abilities have been recognized and showcased on national television when he was featured as a Head Trainer in season 2 of Younger You 12 Week Challenge on the ABC network.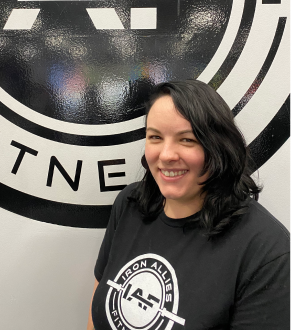 KINDSEY PHYOUMYXAY
Executive Assistant & Office Administrator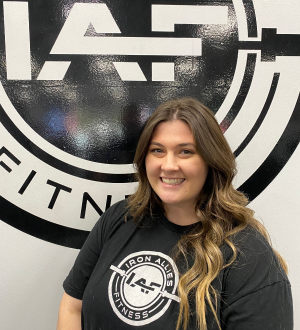 LAUREN FILSON
Office Administrator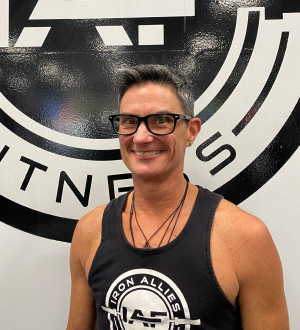 KIM FULLER
Head Coach & Certified Fitness Coach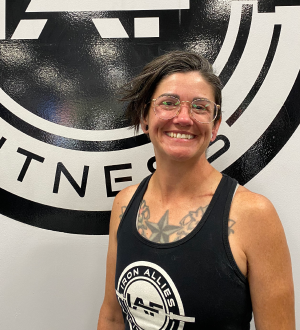 ROBIN CHAPPELL
Programming Director & Certified Fitness Coach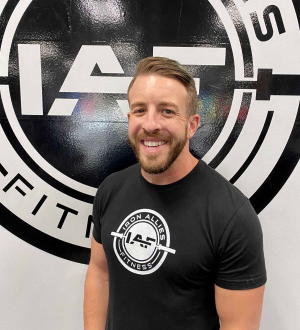 NICK RHODES
Certified Fitness Coach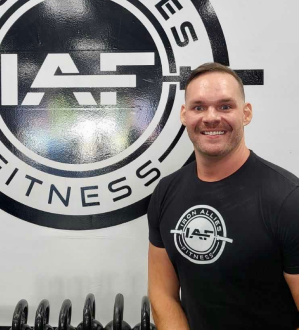 SETH LONGHURST
Certified Fitness Coach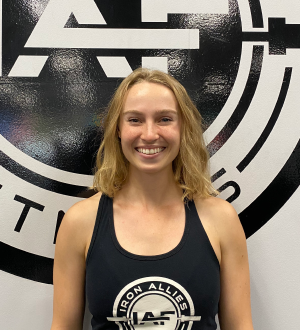 WHITNEY KENNER
Certified Fitness Coach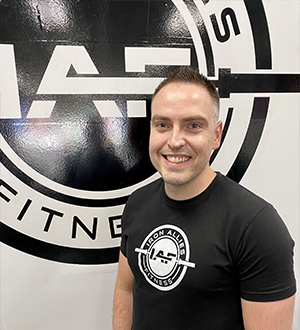 ED PLATT
Certified Fitness Coach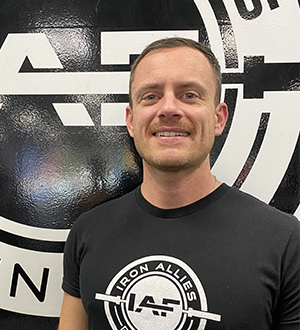 Jeff Tomlinson
Certified Fitness Coach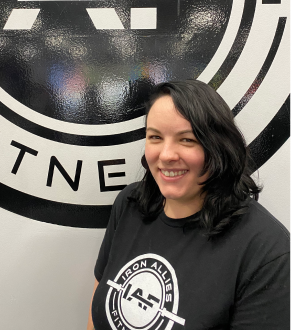 KINDSEY PHYOUMYXAY
Executive Assistant & Office Administrator
I started working with Iron Allies at the beginning of 2020 during a company-sponsored 8-Week Wellness Challenge. I joined the challenge out of obligation as a member of the wellness committee, and I had little to no expectations of seeing results. 
After the first 7 days I was down 10lbs and all I did was follow the program. By the end I had dropped 20lbs of fat and I can honestly say that it was life changing. Mostly because I did something I never thought I could. If I can do it, so can you!
Unrelated to my experience here, I've always been an introverted music and art lover! The more screaming in the music, the better. 🤘 I've been studying various languages over the year, but haven't really become fluent in any of them, but I enjoy learning new things. That's why I do all the things.
I've had my cosmetology license since 2011 but I don't do much with that these days.
😬 I collect rocks, tarot cards, all types of specimens, and manga. A total nerd.
I would say that losing 20lbs of fat is a pretty incredible accomplishment as far as my fitness goals are concerned. I also went from hardly being able to deadlift a bar to being able to dead lift 125lbs. 
Getting stronger has been amazing, so has been getting healthy. In my professional life, I've recently become a certified bookkeeper. I am also a licensed cosmetologist but it's more of a hobby. I also was super close to being a published artist.
I've also always struggled with my mental health. I've recently come off all of those medications and have been making efforts to find more natural solutions.

I have held various positions in the administrative field for the last decade. I guess I'm passionate about office work and getting things done. I'm also really good at marathoning k-dramas.

My goal in life is just to make everyone's lives easier. I want to be helpful in any way that I can and support as many people as possible. It makes me feel good when I know that I can be valuable to those around me. It gives me a sense of purpose.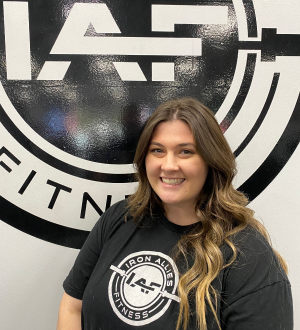 LAUREN FILSON
Office Administrator
I have worked in the medical field since I was 19 and, in that time, found out that I have a passion and want to support people physically and mentally. When I moved to Utah from LA, I was offered a job at the Huntsman Cancer Institute in the Multiple Myeloma department and fell in love with Oncology. I will be graduating with my BSN in August of 2024 and plan to continue my career in oncology nursing, specifically pediatric oncology.
I had been a competitive cheerleader for 12 years so I was always active and lifting, mostly humans.. but after graduation I stopped, and it was time to find a new passion. When I started working out and lifting weights, I had found that love again and made it fun competing with myself to see how much my body was capable of, that helped me appreciate the body I was given. I'm only slightly competitive.. ok more than slightly..
I started working out at Iron Allies Fitness in March and once I heard they were needing an admin I was more than excited to jump on the opportunity to be a part of something special and have the chance to help people.
I'm a momma to two sweet baby pups and one human baby on the way.
Physically I am proud to say that I have accomplished deadlifting more than my body weight. My most recent max that I did was 230 pounds. My legs are my money makers. I can do box jumps and other physically related things I never thought I could by overcoming mental blocks.

Aside from my administrative work, I specialize in first aid as I had worked in an urgent care for many years, from years of coaching and medicine; I have a knowledge of all the joints, bones, muscles in the body and their attachments and how to treat the ailments. PLUS I can offer great suggestions if you ever want to consider cheerleading and need some tips! LOL!

I would like to help everyone by providing compassion, understanding and empathy. I want to provide a safe space for those who need more of a listening time and not always fitness guidance. I want to provide knowledge of the body and how it works so we can better care for it and learn how to love it and appreciate all the things it does.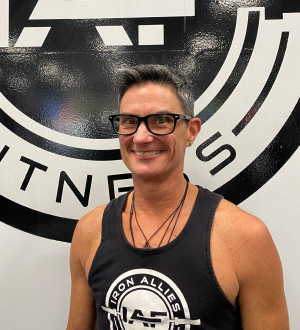 KIM FULLER
Head Coach & Certified Fitness Coach
I first came to IAF as a referral in March of 2019 and immediately fell in love with our community. I became a member of Iron Allies Fitness, and my fitness journey began. Right away, I became dedicated to my nutrition and made fitness a way of life. 
In July, I was involved in an automobile accident that left me with permanent damage to my c-spine. When I returned to the gym, I was determined to use fitness to conquer the physical challenges resulting from the accident. 
While working hard to rebuild, I realized a passion for sharing fitness with others and I began the IAF internship program.
I am a Nationally Certified Personal Trainer and a Certified Nutrition Coach. First Certified through NASM in September of 2020.
I specialize in helping people connect to the mind and to the muscles.
I am passionate about helping people see that fitness is possible no matter your starting point. Never give up! IAF saved my life. I am an example of what it is to find yourself through fitness and maintaining personal growth and community as part of an ongoing practice and I want to give you the same gift that IAF gave me. I want you to have a full-life transformation, not just a full-body one.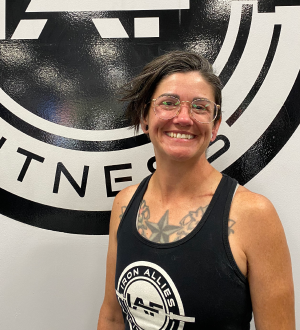 ROBIN CHAPPELL
Programming Director & Certified Fitness Coach
I first became interested in fitness in 2015, when I was looking for something healthy to help me cope after the loss of my mother. I first began mountain biking and fell in love with being out on the trail. After a bad mountain biking accident in 2017 I started to put more of my focus into cross training in the gym, which eventually led to an interest in power lifting.
In 2018 I was introduced to trail running and began training and entering races where I discovered a positive, supportive community. In 2021, after an exhaustive search – and much trial and error – I discovered Iron Allies Fitness and loved that the attitude and ideals of the coaches and community were in line with my own. I knew immediately that this was a unique community and environment and was truly one where I could safely train and unlock my potential.
In early 2020, I completed my first power lifting meet and learned just how strong the human body is. I'm always interested in pushing my personal limits and have run several difficult Ultramarathons. I spent the spring/summer of 2022 training with my Australian Cattle dog, Granola, and recently completed my first 100-mile Ultramarathon. I am a certified Personal Trainer through ISSA. I plan on continuing to study endurance sports, strength training for endurance athletes and endurance sports nutrition.

I specialize in powerlifting, and I have successfully gone through my own experience of rehabilitation after injury which gives me a unique ability to help others recover through specialized training. I also have a gift for training individuals without bias and seeing individuals through a scope of humanity before anything else.

My mission is to provide a comfortable space for anyone and everyone to train.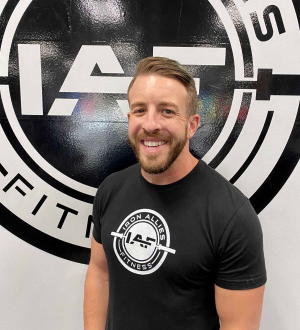 NICK RHODES
Certified Fitness Coach
Hi all, my name is Nick! I joined IAF as a referral client in August 2022. I had only been working through my fitness journey for about a year; my gym results were slow and lacked accountability, and I longed for community.
Joining the IAF family I found friendships that reassured me at whatever level I found myself while also being a voice of encouragement and support. These were the missing ingredients for me to start seeing better results, physically mentally and emotionally. That AND working with some fun coaches who provided powerful, targeted workouts within a fun and supportive environment.
My love for the IAF experience inspired me to do the IAF Internship Program where I studied to be a Coach and got certified through the IAF Certified Fitness Coach certification program.
I became a Certified Fitness Coach in early 2023 and was hired in March.
I have a Masters of Education degree from the University of Utah. I've worked in Leadership Development education and Wellness Resource Management for 10+ years. I'm a Certified Fitness Coach and currently working on my International Certification.
I specialize in sequential learning, educational curricular theory and practice, holistic wellbeing, effective communication, and mind-to-muscle connection.
I'm excited to help you feel connected to yourself! -your mind, your body and your emotions. I believe a holistic approach to health/wellness ensures sustainability! Let me know what your goals are and how I can offer some support.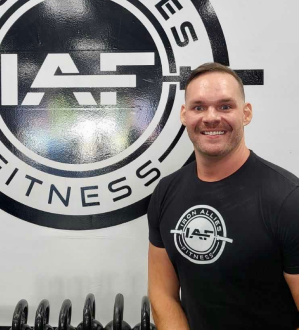 SETH LONGHURST
Certified Fitness Coach
I joined Iron Allies as a referral in December of 2020. Like many people during the pandemic, I reverted to unhealthy habits. Isolation and transitioning to remote work had taken significant tolls on my physical and mental health. I decided I wanted to make a change and knew that a program that was challenging, accepting, and held me accountable would help me reach my goals.
In less than a year, I completely turned my life around. I managed to lose over 10% body fat and gain nearly 25 lbs of lean muscle. I am also a 3x IRON50 Challenge Finisher. In 2022, I was the recipient of the Ally of the Year award.

Wellness is multi-dimensional, and I hope to help my clients not only challenge and transform themselves physically, but to improve their social and mental health as well.

Incorporating a sustainable fitness and nutrition program has brought so much joy to every aspect of my life—I want to help others do the same. My goal as a trainer is to help you become the best version of yourself.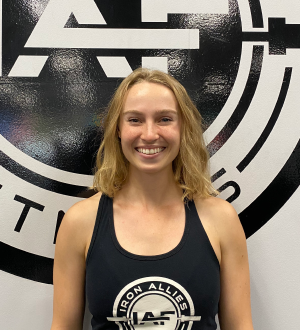 WHITNEY KENNER
Certified Fitness Coach
I have been interested in fitness and health from a very young age. My father loved to run and lift, and he shared his passion with me. In high school I took weightlifting courses offered and competed in swimming, track, and color guard. In college, I realized I loved science and nature and therefore decided biology was the perfect major for my passions. This degree taught me about many of the mechanisms of exercise science, including the chemical and physiological effects of exercise. I started coming to Iron Allies Fitness in June of 2018 and fell in love with the trainers, community, and values which led me to where I am today.
I love the outdoors and traveling. My hobbies include hiking, backpacking, camping, ice climbing, and cooking.

I became a Certified Yoga Instructor through CorePower Yoga in August of 2017. I am a Certified Personal Trainer through NSCA (National Strength & Conditioning Association). I also graduated from the University of Utah with my Bachelor of Science in Biology in May of 2019.

I excel in helping clients improve muscle imbalance and increase mobility.

To provide a safe space for people to consistently learn about their body (primarily preventing and healing injuries/muscular imbalances) while building functional strength AND have fun while doing it!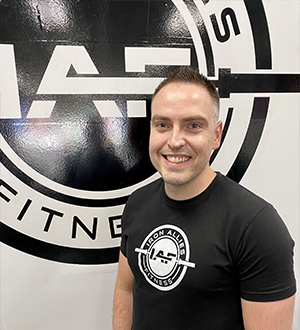 ED PLATT
Certified Fitness Coach
I started my fitness journey in 2011 doing P90X with my twin brother and best friend in his basement, because I was tired of my friends calling me "skinny". I struggled putting on any weight even into my late 20's, so I joined my first gym after a coworker kept asking me to come and try it out. On my first day of class there, I went in with the mentality that I was in "pretty good shape", but very quickly came to the realization that I was no where near that. I would closely watch the coaches form, posture, stance etc. so I could emulate it in my fitness. 
After a couple years of attending classes, they started asking me to demonstrate exercises, while they explained the premise and layout of the program for the day. I did that for them for a year or so. They eventually asked me to start coaching for them in 2014, and I've been coaching since then.
I've completed the IAF internship & certification program and have 8 year of previous coaching experience with another gym.

One thing I took away from my personal fitness journey was "Form is Everything". So, I try my best to help people exercising maintain good form and explain myself to the best of my ability.

I want anyone walking through our doors to feel that IAF is somewhere they can come and not feel judged, receive the amazing coaching, and walk out the doors at the end of the workout excited for what the next workout will be.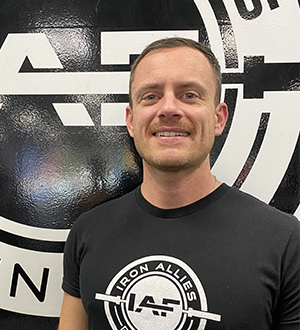 Jeff Tomlinson
Certified Fitness Coach
CLAIM a FREE introductory CLASS & A "SUCCESS" STRATEGY SESSION
Discuss your goals and obstacles that are holding you back.
No long-term membership required with our gym.
Create a blueprint with our coaches to help you.
Improve and eliminate health issues to be your BEST SELF!

Getting started nutrition advice